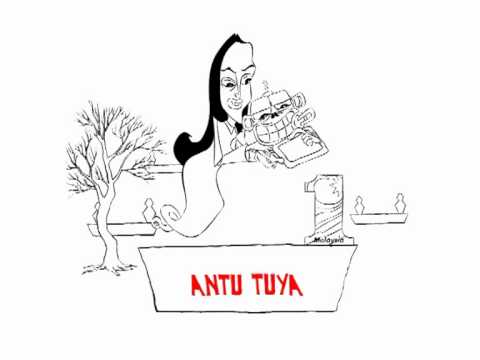 Zunar one of the famous cartoonist in Malaysia has embarked into cartoon animated clips. He has recently published  his 5-minutes political cartoon animated clips , "1 Funny Malaysia". This 5-minute satirical comedy clip is the first animated political cartoon in Malaysia. He said that the production is to meet the demands of fans as well as to venture a new dimension in my career using technologies.
Lets read his explanation on 1 Funny Malaysia animation video clips :
'1 Funny Malaysia' starts with the scene of an ex-model, ANTU TUYA, a victim of C-4 bomb, who rises from the grave with her small baby. She then flies to the government administration centre – PUTARJAYA – looking for someone named DATO NAZAK. She enters DATO NAZAK's office and demands him to TEPATI JANJI by paying her commission. Shocked, DATO NAZAK immediately jumps out of the window and falls onto a cow with a head of a woman in tudung.

The cow runs DATO NAZAK into the sea and tosses him onto the submarine, but at the other end of the sea, the French Court is waiting. Watch the full clip. I would like to thank all cartoonists, animators and the editor for their effort in making this production a success despite the extremely low budget.
In his blog zunarcartoonist.com, he has indicated his plan to continue for the next series. However, due to financial constraints, he require support from people and you can channel it through this website "zunarcartoonist.com".
Incoming search terms: